Anesthesia Workstation ADONIS-201A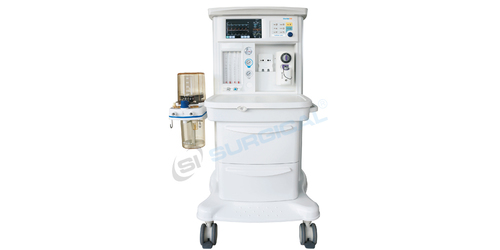 Anesthesia Workstation ADONIS-201A
Price And Quantity
Product Specifications
50 Kilograms (kg)

Anaesthesia Machine
Product Description
Integrated breathing circuit with apl valve,excellent tightness.
Replacing drive bellow is not required when operating adult/pediatric anesthesia.

Applied with 1 high-precision vaporizers,(with optional to selectatec).

7 inch screen with no dead space.

Real -time detection for loops,paw,bpm,vt and compliance.

Comprehensive monitoring capabilities include ventilation parameters monitoring ,preset parameters,alarm indication and breathing wave-form monitoring.

Acgo available to connect with t?BAIN Circuit for open operation.

Yoke system with up to 3 back up cylinders(a type with 11l size).
Technique specifications
Physical specifications

Dimensions:70x85x140cm.

Weight:50kg.

casters:front wheels with lock.

screen:lcd.

Display:7inch.

Display graphics:waveforms of p-t,f-t.

monitoring:vt,mv,bpm,paw,inspiratory platform,fio2
Working specifications
Power:ac 220v+10%,50hz+2%.
output pressure:0.4+0.1mpa.
current:500ma max
Ventilator specifications
Modes of ventilation
Ippv:intermittent positive pressure ventilation.
simv:synchronized intermittent mandatory ventilation.-Manual:manual.
sippv(a/c):synchronized intermittent positive pressure ventilation.
stand-by:stand-by
System standard
Hypoxic guard system:n2o cut-off valve,02 concentration>25%.
safety valve:<12.5kpa.-Fresh gas compensation:25-75l/min.
flowmeter:cascade,0-10l/min.
volume of co2 absorber:2l.
flow meter:4 tubes ,cascade 0.1-15l/min 02 0.1-15l/min n20.
vaporizer:1 selectetac,maximum 2 mounts(isoflurane/enflurane/sevoflurane/halothane.
Ventilator parameter
Working type:electronically controlled,pneumatic driven.
tidal volume range :40-1500ml.
pressure range:5-80 mbar.
rispriation rate range:1-99bpm(1-40bpm under simv).
i:e range:4:1-1:8.
ptrigger range:-20-20cmh2o.
minute volume range:>18l/min.
sigh range:0-5/100
Alarm limits
Audio/visual:no tidal volume,mv,paw,fi02 limitation 02,air failure,ac power failure,battery low.
Pipeline suppiy
Gas configuration:02,n2o.-Pipeline input range:280-600kpa
Battery power
Battery type:lead-acid 12v,4ah.
run-time:typical 30mins+,up to 2 hrs
Pre-setting functions
Language:english.-Calibration:automatic
Applications
Patient range:audlt/peadiatric
Optional
Agess,suction unit,auxiliary o2 flowmeter,vaporizer(selectates)
Product Details
| | |
| --- | --- |
| Current | 500 ma Max |
| Usage | Hospital |
| Mounting Type | With Ventilator |
| Brand | SI Surgical |
| Model Number | ADONIS 201A |
| Weight | 50 kg |
| Voltage | AC220V+- 10%,50Hz+-2% |
| Automation Grade | Automatic |
| Display Type | LCD |
| Number Of Wheels | Front Wheels With Lock |
| Battery | Lead Acid 12V,4AH |
| Warranty | 1 Year |
| Color | White |
| Positioning | Trolley |
| Category | Life Support |
| Volume Range | 40-1500 ml |
| Rispriation Rate Range | 1-99bpm(1-40bpm Under Simv) |
| Pressure Range | 5-80 Mbar |
| Output Pressure | 0.4+0.1 mpa. |
| Monitoring | Vt,Mv,Bpm,Paw,Inspiratory Platform,Fio2 |
| Display Size | 7 inch |
| Display Graphics | Waveforms Of P-t,f-t. |
| Dimensions | 70 x 85 x 140 cm |
Contact Us
SIS House, NH6 Uttar Nibra, 2no Pump House, Oppo : Mandirtala Sporting Club Howrah West Bengal India +918037744454
Phone :+918037744454