Anesthesia Workstation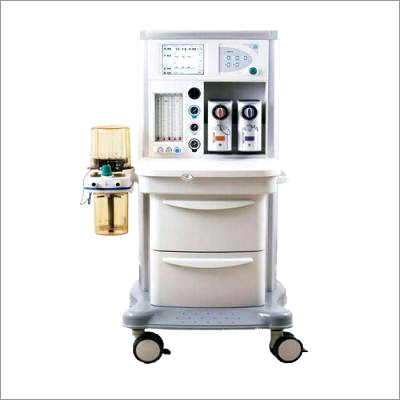 Anesthesia Workstation
Price And Quantity
Product Specifications
136-170 Kilograms (kg)

Operation Use
Anaesthesia Machine

53.4 x 29.5 x 32.7 (HXWXD) Inch (in)
Product Description
Feature:
Compact Anesthesia Ventilation System With The Standard Of Iso 9001:2015
Easy To Operate, User Friendly
Ventilation Parameters Monitoring, Preset Parameters, Alarm Indication And Breathing Waveform Monitoring
Support Adult And Pediatric
Applied For Closed, Semi-closed, Semi Open Inhalation Anesthesia Controlled Or Assisted Ventilation
Technique Specifications:
Dimensions: 70*85*140cm.
Weight: 50kg.
Casters: Front Wheels With Lock.
Screen: Lcd.
Display: 7 inch.
Display Graphics: Waveforms Of P-t,f-t.
Monitoring: Vt, Mv, Bpm, Paw, Lung Compliance, Inspiratory Platform, Fio2
Working Specifications:
Power: Ac 220v+10%, 50hz+2%. -output Pressure: 0.4+0.1mpa.-current: 500ma Max
Ventilator Specifications:
Modes Of Ventilation
Vcv: Volume Controlled Ventilation.
Simv: Synchronized Intermittent Mandatory Ventilation.
Manual: Manual. Sippv (A/c): Synchronized Intermittent Positive Pressure Ventilation.
Pcv: Pressure Control Ventilation.
Stand-by: Stand-by
System Standard:
Hypoxic Guard System: N2o Cut
Off Valve, 02 Concentration>25%.
Safety Valve: <12.5kpa.
Fresh Gas Compensation: 25-75l/min.
Flowmeter: Cascade, 0-10l/min.
Volume Of Co2 Absorber: 1.5l.
Vaporizer: 1 Selectetac, Maximum 2 Mounts (Isoflurane/enflurane/sevoflurane/halothane.
Ventilator Parameter:
Working Type: Electronically Controlled, Pneumatic Driven.
Tidal Volume Range: 20-1500ml.
Pressure Range: 5-80 Mbar.
Respriation Rate Range: 1-99bpm (1-40bpm Under Simv).
I: E Range: 4: 1-1:8.-p trigger Range:-20-20cmh2o.
Minute Volume Range: >18l/min.-sigh Range: 0-5/100,
Type: Integrated, Electronic Control
Alarm Limits
Audio/visual: No Tidal Volume, Mv, Paw, Fi02 Limitation 02, Air Failure, Ac Power Failure, Battery Low.
Pipeline Suppiy
Gas Configuration: 02, N2o.-pipeline Input Range: 280-600kpa
Battery Power
Battery Type: Lead-acid 12v, 4ah.-run-time: Typical 30mins+,up To 2 Hrs
Pre-setting Functions
Language: English.
Calibration: Automatic
Applications:
Patient Range: Adult/pediatric
Peep
Integrated,
Electronic Control.-range:off, 3-20 cm H2o
Optional:
Acgo: Auxiliary Common Gas Outlet.
Vaporizer: Selectatec.
Yoke System (Pin-index): Support 11l Cylinder, 02/n2o.-agss: Anaesthetic Gas Scavenging Systems
Contact Us
SIS House, NH6 Uttar Nibra, 2no Pump House, Oppo : Mandirtala Sporting Club Howrah West Bengal India +918037744454
Phone :+918037744454